Posts: 1,870
generasia wrote:

---

Perfume was formed in 2001 and originally consisted of Ayaka "A~chan" Nishiwaki, Yuka "Kashiyuka" Kashino and Yuuka Kawashima. Shortly after the band's formation, Kawashima left the group to concentrate on her studies and was replaced by Ayano "Nocchi" Ōmoto. the group's name "Perfume" came from the chinese character in the three original members' names, "香", which means fragrance. But after Yuuka left, A~chan explains the origin of the name, saying, "Because perfume can make people comfortable or pleasant and we hope to be like it. We made this explanation later though."

►

New Release
6th Album
「COSMIC EXPLORER」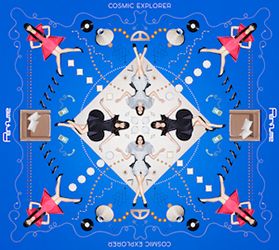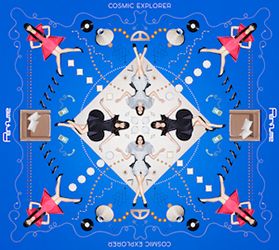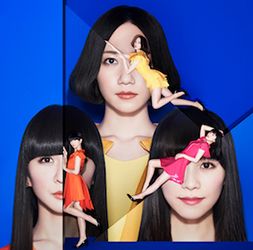 2016.04.06 Released
[CD 1]
01. Navigate
02. Cosmic Explorer
03. Miracle Worker
04. Next Stage with YOU
05. STORY
06. FLASH (Album-mix)
07. Sweet Refrain (Album-mix)
08. Baby Face
09. TOKIMEKI LIGHTS (Album-mix)
10. STAR TRAIN (Album-mix)
11. Relax In The City
12. Pick Me Up
13. Cling Cling (Album-mix)
14. Hold Your Hand
[CD 2]
(Limited Editions Only)
01. FLASH
02. FLASH -Original Instrumental-
03. "Perfume no Tadatada Radio ga Suki dakara Radio! 2" (「Perfumeのただただラジオが好きだからレイディオ!2」;
Because we like nothing but Perfume's Radio Radio!
2)
[DVD/Blu-ray]
01. FLASH -Video Clip-
02. Hold Your Hand -Lyric Video-
03. Cling Cling (2014/07/14 Perfume "Cling Cling" World @ Harajuku Astro Hall)
04. Pick Me Up (2015/12/31 66th NHK Red and White Singing Contest Live + Behind the Scenes Documentary)
Special Boxset
「Perfume Complete "LP" Box」
2016.02.17 Released
[Contents]
01. 「Perfume ~Complete Best~」
02. 「GAME」
03. 「⊿」
04. 「JPN」
05. 「Perfume Global Compilation "LOVE THE WORLD"」
►

Albums
Spoiler
5th Album 「LEVEL3」

2013.10.02 Released |

1st Album under Perfume Records



[CD]
01. Enter the Sphere
02. Spring of Life (Album-mix)
03. Magic of Love (Album-mix)
04. Clockwork
05. 1mm
06. Mirai no Museum (未来のミュージアム; Museum of the Future)
07. Party Maker
08. Furikaeru to Iru Yo (ふりかえるといるよ; I'll Have to Look Back)
09. Point (ポイント)
10. Daijo Banai (だいじょばない; I'm Not Ok)
11. Handy Man
12. Sleeping Beauty
13. Spending all my time (Album-mix)
14. Dream Land

[DVD]
01. 1mm -Video Clip-
02. "Zutto Suki Dattan Jakee~Sasurai no Menkata Perfume FES!!" Memorial ♡ (「ずっと好きだったんじゃけぇ~さすらいの麺カタPerfume FES!!」メモリアル♡; I've always liked you~Wandering Thick Soup)
03. "Perfume no Tadatada Radio ga Suki dakara Radio!" (「Perfumeのただただラジオが好きだからレイディオ!」; Because we like nothing but Perfume's Radio Radio!)


1st Best Album 「Perfume Global Compilation "LOVE THE WORLD"」

2012.09.12 Released

[CD]
01. Polyrhythm (ポリリズム)
02. edge (⊿-mix)
03. love the world
04. Electro World (エレクトロ・ワールド)
05. Chocolate Disco (2012-Mix) (チョコレイト・ディスコ)
06. SEVENTH HEAVEN
07. GAME
08. Secret Secret (シークレットシークレット)
09. NIGHT FLIGHT
10. Baby cruising Love
11. Butterfly
12. FAKE IT
13. Laser Beam (レーザービーム)
14. GLITTER
15. MY COLOR (LTW-Mix)
16. Dream Fighter

[DVD]
01. FAKE IT -Video Clip-
02. FAKE IT -Video Clip Making-
03. Polyrhythm -Historical Live Act Version- (ポリリズム)


4th Album 「JPN」

2011.11.30 Released

[CD]
01. The Opening
02. Laser Beam (Album-mix) (レーザービーム)
03. GLITTER (Album-mix)
04. Natural ni Koishite (ナチュラルに恋して; Fall in Love Naturally)
05. MY COLOR
06. Toki no Hari (時の針; Needle of Time)
07. Nee (ねぇ)
08. Kasuka na Kaori (微かなカオリ; Faint Scent)
09. 575
10. VOICE
11. Kokoro no Sports (心のスポーツ; Heart's Sports)
12. Have a Stroll
13. Fushizen na Girl (不自然なガール; Artificial Girl)
14. Spice (スパイス)

[DVD]
01. Spice -Video Clip- (スパイス)
02. Natural ni Koishite -Video Clip- (ナチュラルに恋して)
03. Laser Beam -Video Clip FULL Ver.- (レーザービーム)
04. Kasuka na Kaori -Video Clip TV Ver.- (微かなカオリ)
05. Kasuka na Kaori -Video Clip- (微かなカオリ)
06. Fushizen na Girl / Natural ni Koishite -TV SPOT- (不自然なガール/ナチュラルに恋して)
07. VOICE -TV SPOT-
08. Nee -TV SPOT- (ねぇ)
09. Laser Beam -TV SPOT (レーザービーム)
10. Spice -TV SPOT- (スパイス)


3rd Album 「⊿」 (Triangle)

2009.07.08 Released

[CD]
01. Take off
02. love the world
03. Dream Fighter
04. edge (⊿-mix)
05. NIGHT FLIGHT
06. Kiss and Music
07. Zero Gravity
08. I still love U
09. The best thing
10. Speed of Sound
11. One Room Disco (ワンルーム・ディスコ)
12. Negai (Album-mix) (願い; Wish)

[DVD]
01. I still love U Special Video Clip
02. NIGHT FLIGHT LIVE @ Yoyogi Daiittaiku-kan May 10,'09 (代々木第一体育館)
03. edge (⊿-mix) LIVE @ Yoyogi Daiittaiku-kan May 10,'09 (代々木第一体育館)
04. love the world TV-SPOT
05. Dream Fighter TV-SPOT
06. One Room Disco TV-SPOT (ワンルーム・ディスコ)


2nd Album 「GAME」

2008.04.16 Released

[CD]
01. Polyrhythm (ポリリズム)
02. plastic smile
03. GAME
04. Baby cruising Love
05. Chocolate Disco (チョコレイト・ディスコ)
06. Macaroni (マカロニ)
07. Ceramic Girl (セラミックガール)
08. Take me Take me
09. Secret Secret (シークレットシークレット)
10. Butterfly
11. Twinkle Snow Powdery Snow
12. Puppy love

[DVD]
01. Polyrhythm LIVE Version at LIQUIDROOM Nov.8 '07 (ポリリズム)
02. SEVENTH HEAVEN LIVE Version at LIQUIDROOM Nov.8 '07
03. Macaroni -Original Version- (マカロニ)
04. Ceramic Girl -Drama Another Version- (セラミックガール)
05. Macaroni -A-CHAN Version- (マカロニ)
06. Macaroni -KASHIYUKA Version- (マカロニ)
07. Macaroni -NOCCHI Version- (マカロニ)


1st Album 「Perfume ~Complete Best~」

2006.08.02 Released (Limited) | 2007.02.14 Released (Regular)

[CD]
01. Perfect Star Perfect Style (パーフェクトスター・パーフェクトスタイル)
02. Linear Motor Girl (リニアモーターガール)
03. Computer City (コンピューターシティ)
04. Electro World (Album Version) (エレクトロ・ワールド)
05. Inryoku (引力; Gravity)
06. Monochrome Effect (モノクロームエフェクト)
07. Vitamin Drop (ビタミンドロップ)
08. Sweet Donuts (スウィートドーナッツ)
09. Foundation (ファンデーション)
10. Computer Driving (コンピュータードライビング)
11. Perfume
12. wonder2

[DVD]
01. Linear Motor Girl (PV) (リニアモーターガール)
02. Computer City (PV) (コンピューターシティ)
03. Electro World (PV) (エレクトロ・ワールド)
04. Monochrome Effect (PV) (モノクロームエフェクト) (Limited Edition Only)
05. Vitamin Drop (PV) (ビタミンドロップ) (Regular Edition Only)
►

Singles
Spoiler
22nd Single 「STAR TRAIN」

2015.10.28 Released

[CD]
01. STAR TRAIN
02. TOKIMEKI LIGHTS
03. Imitation World (Limited Edition Only) (イミテーションワールド)
04. STAR TRAIN -Original Instrumental- (Limited Edition Only)
05. TOKIMEKI LIGHTS -Original Instrumental- (Limited Edition Only)
06. Imitation World -Original Instrumental- (Limited Edition Only) (イミテーションワールド)

[DVD]
01. STAR TRAIN -Video Clip-
02. Perfume View


21st Single 「Relax In The City / Pick Me Up」

2015.04.29 Released

[CD]
01. Relax In The City
02. Pick Me Up
03. Toumei Ningen (透明人間; Invisible Person)
04. Relax In The City -Original Instrumental- (Limited Editions Only)
05. Pick Me Up -Original Instrumental- (Limited Editions Only)
06. Toumei Ningen -Original Instrumental- (Limited Editions Only) (透明人間)

[DVD]
01. Relax In The City -Music Clip-
02. Relax In The City -Teaser-
03. Pick Me Up -Music Clip-


20th Single 「Cling Cling」

2014.07.16 Released

[CD]
01. Cling Cling
02. Hold Your Hand
03. DISPLAY
04. Ijiwaru na Hello (いじわるなハロー; Mean Hello)
05. Cling Cling -Original Instrumental- (Limited Editions Only)
06. Hold Your Hand -Original Instrumental- (Limited Editions Only)
07. DISPLAY -Original Instrumental- (Limited Editions Only)
08. Ijiwaru na Hello -Original Instrumental- (Limited Editions Only) (いじわるなハロー)

[DVD]
01. Cling Cling -Video Clip-
02. Cling Cling -Teaser-
03. DISPLAY (Short Ver.) -Video Clip-
04. "Perfume FES!! 2014" 3/15~4/11 Digest
05. Nishiwaki Memorial House "Spice" "SHINING☆STAR" (First Press Limited Edition Only)


19th Single 「Sweet Refrain」

2013.11.27 Released

[CD]
01. Sweet Refrain
02. Koi wa Zenkeishisei (恋は前傾姿勢; Love is Leaning Forward)
03. Sweet Refrain -Original Instrumental-
04. Koi wa Zenkeishisei -Original Instrumental- (恋は前傾姿勢)

[DVD]
01. Sweet Refrain -Video Clip-


18th Single 「Magic of Love」

2013.05.22 Released

[CD]
01. Magic of Love
02. Handy Man
03. Magic of Love -Original Instrumental-
04. Handy Man -Original Instrumental-

[DVD]
01. Magic of Love -Video Clip-


17th Single 「Mirai no Museum」 (未来のミュージアム)

2013.02.27 Released

[CD]
01. Mirai no Museum (未来のミュージアム; Museum of the Future)
02. Daijobanai (だいじょばない; I'm Not Ok)
03. Mirai no Museum -Original Instrumental- (未来のミュージアム)
04. Daijobanai -Original Instrumental- (だいじょばない)

[DVD]
01. Mirai no Museum -Video Clip- (未来のミュージアム)


16th Single 「Spending all my time」

2012.08.15 Released |

1st Single under Perfume Records



[CD]
01. Spending all my time
02. Point (ポイント)
03. Hurly Burly
04. Spending all my time -Original Instrumental-
05. Point -Original Instrumental- (ポイント)
06. Hurly Burly -Original Instrumental-

[DVD]
01. Spending all my time -Video Clip-


15th Single 「Spring of Life」

2012.04.11 Released |

1st Single under Universal Music Japan



[CD]
01. Spring of Life
02. Communication (コミュニケーション)
03. Spring of Life -Original Instrumental-
04. Communication -Original Instrumental- (コミュニケーション)

[DVD]
01. Spring of Life -Video Clip-


14th Single 「Spice」 (スパイス)

2011.11.02 Released

[CD]
01. Spice (スパイス)
02. GLITTER
03. Spice -Original Instrumental- (スパイス)
04. GLITTER -Original Instrumental-

[DVD]
01. GLITTER -Video Clip-


13th Single 「Laser Beam / Kasuka na Kaori」 (レーザービーム / 微かなカオリ)

2011.05.18 Released

[CD]
01. Laser Beam (レーザービーム)
02. Kasuka na Kaori (微かなカオリ; Faint Scent)
03. Laser Beam -Original Instrumental- (レーザービーム)
04. Kasuka na Kaori -Original Instrumental- (微かなカオリ)

[DVD]
01. Laser Beam -Video Clip [Short Ver.]-  (レーザービーム)
02. Jacket Shooting Making Of  (ジャケット撮影時メイキング映像 / Jacket Satsuei Roki Making Eizou)


12th Single 「Nee」 (ねぇ; Hey)

2010.11.10 Released

[CD]
01. Nee (ねぇ; Hey)
02. FAKE IT
03. Nee -Original Instrumental- (ねぇ)
04. FAKE IT -Original Instrumental-

[DVD]
01. Nee (PV) (ねぇ)


11th Single 「VOICE」

2010.08.11 Released

[CD]
01. VOICE
02. 575
03. VOICE -Original Instrumental-
04. 575 -Original Instrumental-

[DVD]
01. VOICE (PV)


10th Single 「Fushizen na Girl / Natural ni Koishite」 (不自然なガール / ナチュラルに恋して)

2010.04.14 Released

[CD]
01. Fushizen na Girl (不自然なガール; Artificial Girl)
02. Natural ni Koishite (ナチュラルに恋して; Fall in Love Naturally)
03. Fushizen na Girl -Original Instrumental- (不自然なガール)
04. Natural ni Koishite -Original Instrumental- (ナチュラルに恋して)

[DVD]
01. Fushizen na Girl (PV) (不自然なガール)


9th Single 「One Room Disco」 (ワンルーム・ディスコ)

2009.03.25 Released

[CD]
01. One Room Disco (ワンルーム・ディスコ)
02. 23:30
03. One Room Disco -Original Instrumental- (ワンルーム・ディスコ)
04. 23:30 -Original Instrumental-

[DVD]
01. One Room Disco (PV) (ワンルーム・ディスコ)


8th Single 「Dream Fighter」

2008.11.19 Released

[CD]
01. Dream Fighter
02. Negai (願い; Wish)
03. Dream Fighter -original instrumental-
04. Negai -original instrumental- (願い)

[DVD]
01. Dream Fighter (PV)


7th Single 「love the world」

2008.07.09 Released

[CD]
01. love the world
02. edge
03. love the world -original instrumental-
04. edge -Extended Mix-

[DVD]
01. love the world (PV)


6th Single 「Baby cruising Love / Macaroni」 (マカロニ)

2008.01.16 Released

[CD]
01. Baby cruising Love
02. Macaroni (マカロニ)
03. Baby cruising Love -original instrumental-
04. Macaroni -original instrumental- (マカロニ)

[DVD]
01. Baby cruising Love (PV)


5th Single 「Polyrhythm」 (ポリリズム)

2007.09.12 Released

[CD]
01. Polyrhythm (ポリリズム)
02. SEVENTH HEAVEN
03. Polyrhythm -extra short edit- (ポリリズム)
04. Polyrhythm ~Original Instrumental~ (ポリリズム)
05. SEVENTH HEAVEN ~Original Instrumental~

[DVD]
01. Polyrhythm (PV) (ポリリズム)


4th Single 「Fan Service [sweet]」 (ファン・サーヴィス [sweet])

2007.02.14 Released

[CD]
01. Chocolate Disco (チョコレイト・ディスコ)
02. Twinkle Snow Powdery Snow

[DVD]
01. Chocolate Disco (PV) (チョコレイト・ディスコ)
02. Twinkle Snow Powdery Snow (PV)


3rd Single 「Electro World」 (エレクトロ・ワールド)

2006.06.28 Released

[CD]
01. Electro World (エレクトロ・ワールド)
02. wonder2


2nd Single 「Computer City」 (コンピューターシティ)

2006.01.11 Released

[CD]
01. Computer City (コンピューターシティ)
02. Perfume


1st Single 「Linear Motor Girl」 (リニアモーターガール)

2005.09.21 Released

[CD]
01. Linear Motor Girl (リニアモーターガール)
02. Foundation (ファンデーション)
03. Computer Driving (コンピューター ドライビング)
►

Indie Singles
Spoiler
5th Indie Single 「Vitamin Drop」 (ビタミンドロップ)

2004.09.08 Released

[CD]
01. Vitamin Drop (ビタミンドロップ)
02. Inryoku (引力; Gravity)


4th Indie Single 「Monochrome Effect」 (モノクロームエフェクト)

2004.03.17 Released

[CD]
01. Monochrome Effect (モノクロームエフェクト)
02. Elevator (エレベーター)
03. Oishii Recipe (おいしいレシピ; Delicious Recipe)


3rd Indie Single 「Sweet Donuts」 (スウィートドーナッツ)

2003.08.06 Released

[CD]
01. Sweet Donuts (スウィートドーナッツ)
02. Secret Message (シークレットメッセージ)
03. Jenny wa Gokigen Naname (ジェニーはご機嫌ななめ; Jenny is Displeased)


2nd Indie Single 「Kareshi Boshuuchuu」 (彼氏募集中)

2002.11.01 Released

[CD]
01. Kareshi Boshuuchuu (彼氏募集中; Recruiting a Boyfriend)
02. Kareshi Boshuuchuu (Original Karaoke) (彼氏募集中)


1st Indie Single 「OMAJINAI★Perori」 (OMAJINAI★ペロリ)

2002.03.21 Released

[CD]
01. OMAJINAI★Perori (OMAJINAI★ペロリ)
02. OMAJINAI★Perori (Original Karaoke) (OMAJINAI★ペロリ)
►

Digital Singles
Spoiler
1st Digital Single 「Twinkle Snow Powdery Snow」
2006.12.20 Released

01. Twinkle Snow Powdery Snow
►

Live DVDs / Blu-rays
Spoiler
12th Live DVD / Blu-ray 「Perfume Anniversary 10days 2015 PPPPPPPPPP "LIVE 3:5:6:9"」

2016.01.13 Released

[Disc 1]
01. Opening
02. FAKE IT
03. NIGHT FLIGHT
04. Computer City (コンピューターシティ)
05. Pick Me Up
06. Laser Beam (レーザービーム)
07. Mirai no Museum (未来のミュージアム; Museum of the Future)
08. Twinkle Snow Powdery Snow
09. 1mm
10. Kareshi Boshuuchuu (彼氏募集中; Recruiting a Boyfriend)
11. GAME
12. STORY
13. Party Maker
14. Dream Fighter
15. "P.T.A." Corner (「P.T.A.」のコーナー)
16. One Room Disco (ワンルーム・ディスコ)
17. Chocolate Disco (チョコレイト・ディスコ)
18. Puppy Love
-ENCORE-
19. STAR TRAIN

[Disc 2] (Limited Editions Only)
01. Anniversary 10days Digest ~Press Interview P.T.A Summit 3-nin Matsuri Dance Contest~ (Anniversary 10days ダイジェスト〜記者会見・P.T.A.サミット・三人祭・ダンスコンテスト〜)
02. 3:5:6:9 Corner Complete Digest (3:5:6:9コーナー コンプリートダイジェスト)


11th Live DVD / Blu-ray 「Perfume WORLD TOUR 3rd」

2015.07.22 Released

[Tracklist]
01. OPENING
02. Enter the Sphere
03. Spring of Life
04. Cling Cling
05. One Room Disco (ワンルーム・ディスコ)
06. Nee (ねぇ; Hey)
07. SEVENTH HEAVEN
08. Hold Your Hand
09. Spending all my time
10. GAME
11. Dream Fighter
12. "P.T.A." Corner (「P.T.A.」のコーナー)
13. Party Maker
14. GLITTER
15. Chocolate Disco (チョコレイト・ディスコ)
16. Polyrhythm (ポリリズム)
-ENCORE-
17. FAKE IT
18. MY COLOR
-BONUS-
19. World Tour Local Digest
20. Special Teaser Trailer


10th Live DVD / Blu-ray 「Perfume 5th Tour 2014 "Gurungurun"」 (ぐるんぐるん; Swing Around)

2015.03.10 Released

[Disc 1]
01. Opening
02. Cling Cling
03. Handy Man
04. Clockwork
05. Laser Beam (レーザービーム)
06. Ijiwaru na Hello (いじわるなハロー; Mean Hello)
07. I still love U
08. Koi wa Zenkeishisei (恋は前傾姿勢; Love is Leaning Forward)
09. EPISODE 0
10. Electro World (エレクトロ・ワールド)
11. DISPLAY
12. SEVENTH HEAVEN
13. "P.T.A." Corner (「P.T.A.」のコーナー)
14. Party Maker
15. GLITTER
16. Ceramic Girl (セラミックガール)
17. Jenny wa Gokigen Naname (ジェニーはご機嫌ななめ; Jenny is Displeased)
18. Chocolate Disco (チョコレイト・ディスコ)
19. Hold Your Hand
-ENCORE-
20. Linear Motor Girl (リニアモーターガール)
21. Perfume
22. Negai (願い; Wish)

[Disc 2] (Limited Editions Only)
01. Yoyogi 4days Sprint Collection ~Passionate Battle Documentary~ (代々木4days かけっこ集 ~熱き闘いの記録~)
02. 9.21 Major Debut Anniversary Total Coverage Real Documentary (9.21 メジャーデビュー記念日密着リアルドキュメンタリー)
03. Destination Team Division MC (ご当地チーム分けMC)


9th Live DVD / Blu-ray 「Perfume WORLD TOUR 2nd」

2014.10.01 Released

[Tracklist]
01. OPENING
02. Spending all my time
03. Magic of Love
04. Laser Beam (レーザービーム)
05. Polyrhythm (ポリリズム)
06. Spring of Life
07. SEVENTH HEAVEN
08. Spice (スパイス)
09. Handy Man (Instrumental)
10. Daijo Banai (だいじょばない; I'm Not Ok)
11. Electro World (エレクトロ・ワールド)
12. "P.T.A." Corner (「P.T.A.」のコーナー)
13. FAKE IT
14. Dream Fighter
15. Chocolate Disco (チョコレイト・ディスコ)
16. MY COLOR
-ENCORE-
17. GLITTER
-BONUS-
18. WORLD TOUR 2nd Making (WORLD TOUR 2nd メイキング)


8th Live DVD / Blu-ray 「Perfume 4th Tour in DOME "LEVEL3"」

2014.04.09 Released

[Disc 1]
01. Opening
02. Enter the Sphere
03. Spring of Life
04. Magic of Love
05. 1mm
06. Clockwork
07. Point (ポイント)
08. Furikaeru to Iru Yo (ふりかえるといるよ; I'll Have to Look Back)
09. Sleeping Beauty
10. Party Maker
11. Spending all my time
12. Computer City (コンピューターシティ)
13. Electro World (エレクトロ・ワールド)
14. Jenny wa Gokigen Naname (ジェニーはご機嫌ななめ; Jenny is Displeased)
15. One Room Disco (ワンルーム・ディスコ)
16. Mirai no Museum (未来のミュージアム; Museum of the Future)
17. "P.T.A." Corner (「P.T.A.」のコーナー)
18. Daijo Banai (だいじょばない; I'm Not Ok)
19. Polyrhythm (ポリリズム)
20. Chocolate Disco (チョコレイト・ディスコ)
21. MY COLOR
22. Dream Land

[Disc 2] (Limited Editions Only)
01. Spring of Life (Multi-Screen) (マルチ画面)
02. Party Maker (Multi-Screen) (マルチ画面)
03. Perfume 4th Tour in DOME "LEVEL3" MC Digest (MCダイジェスト)
04. Perfume 4th Tour in DOME "LEVEL3" Making (メイキング)


7th Live DVD / Blu-ray 「Perfume WORLD TOUR 1st」

2013.05.22 Released (DVD) | 2014.10.01 Released (Blu-ray)

[Tracklist]
01. OPENING
02. NIGHT FLIGHT
03. Computer City (コンピューターシティ)
04. Electro World (エレクトロ・ワールド)
05. Laser Beam (Album-mix) (レーザービーム)
06. Spending all my time
07. love the world
08. Butterfly
09. edge
10. Secret Secret (シークレットシークレット)
11. Dream Fighter
12. "P.T.A." Corner (「P.T.A.」のコーナー)
13. FAKE IT
14. Nee (ねぇ; Hey)
15. Chocolate Disco (チョコレイト・ディスコ)
16. Polyrhythm (ポリリズム)
-ENCORE-
17. Spring of Life
18. Kokoro no Sports (心のスポーツ; Heart's Sports)
19. MY COLOR
-BONUS-
20. WORLD TOUR 1st Making (WORLD TOUR 1st メイキング)


6th Live DVD / Blu-ray 「Perfume 3rd Tour "JPN"」

2012.08.01 Released (DVD) | 2013.08.14 Released (Blu-ray)

[Disc 1]
01. The Opening
02. Laser Beam (Album-mix) (レーザービーム)
03. VOICE
04. Electro World (エレクトロ・ワールド)
05. One Room Disco (ワンルーム・ディスコ)
06. Have a Stroll
07. Toki no Hari (時の針; Needle of Time)
08. Kasuka na Kaori (微かなカオリ; Faint Scent)
09. Spice (スパイス)
10. JPN Special (JPNスペシャル)
11. GLITTER (Album-mix)
12. JPN Medley (JPNメドレー)
13. Polyrhythm (ポリリズム)
14. "P.T.A." Corner (「P.T.A.」のコーナー)
15. FAKE IT
16. Nee (ねぇ; Hey)
17. Jenny wa Gokigen Naname (ジェニーはご機嫌ななめ; Jenny is Displeased)
18. Chocolate Disco (チョコレイト・ディスコ)
19. MY COLOR
-ENCORE-
20. Dream Fighter
21. Kokoro no Sports (心のスポーツ; Heart's Sports)

[Disc 2]
01. Saitama Super Arena ENCORE (さいたまスーパーアリーナ ENCORE)
02. Spice -Multi Angle- (スパイス -マルチアングル-)
03. Toki no Hari -A~chan Ver.- (時の針 -あ〜ちゃん Ver.-; Needle of Time)
04. Toki no Hari -Kashiyuka Ver.- (時の針 -かしゆか Ver.-)
05. Toki no Hari -Nocchi Ver.- (時の針 -のっち Ver.-)
06. MC from Each Venue (ご当地チーム分けMC)
-Additional Performances @ Budokan 4DAYS- (-追加公演@日本武道館4DAYS-)
01. Communication (コミュニケーション)
02. Spring of Life


5th Live DVD / Blu-ray 「Kessei 10 Shunen, Major Debut 5 Shunen Kinen! Perfume LIVE @ Tokyo Dome "1 2 3 4 5 6 7 8 9 10 11"」 (結成10周年、メジャーデビュー5周年記念!Perfume LIVE @東京ドーム 「1 2 3 4 5 6 7 8 9 10 11」; 10 Years Since Forming, Five Since Major Debut)

2011.02.09 Released (DVD) | 2013.08.14 (Blu-ray)

[Disc 1]
01. GISHIKI
02. Secret Secret (シークレットシークレット)
03. Fushizen na Girl (不自然なガール; Artificial Girl)
04. GAME
05. One Room Disco (ワンルーム・ディスコ)
06. Natural ni Koishite (ナチュラルに恋して; Fall in Love Naturally)
07. love the world
08. I still love U
09. 575
10. 1 2 3 4 5 6 7 8 9 10
11. Perfume no Okite (Perfumeの掟)
12. VOICE
13. Computer City (コンピューターシティ)
14. Electro World (エレクトロ・ワールド)
15. Perfect Star Perfect Style (パーフェクトスター・パーフェクトスタイル)
16. Dream Fighter
17. "P.T.A." Corner (「P.T.A.」のコーナー)
18. Jenny wa Gokigen Naname (ジェニーはご機嫌ななめ; Jenny is Displeased)
19. (Computer Driving Intro) ~ Perfume ((コンピューター・ドライビング Intro)〜Perfume)
20. Chocolate Disco (チョコレイト・ディスコ)
21. Puppy love
22. wonder2
23. Nee (ねぇ; Hey)
24. Polyrhythm (ポリリズム)

[Disc 2] (Limited Edition Only)
01. Perfume no Okite -Multi Angle- (Perfumeの掟 -マルチアングル-)
02. Nee -Multi-Screen- (ねぇ -マルチ画面-;

Multi Screen

)
03. Perfume -A~chan Ver.-
04. Perfume -Kashiyuka Ver.-
05. Perfume -Nocchi Ver.-
06. Nee -Multi-screen-
07. 575 -Tokyo Dome Special Video Clip-
08. 1 2 3 4 5 6 7 8 9 10 -Tokyo Dome Original Ver.-
09. Hato (Dual Audio) (鳩;

Dove

)


4th Live DVD / Blu-ray 「Chokkaku Nitouhen Sankakkei TOUR」 (直角二等辺三角形TOUR; Right-Angled Isosceles Triangle TOUR)

2010.01.13 Released (DVD) | 2013.08.14 Released (Blu-ray)

[Disc 1]
01. Take off
02. NIGHT FLIGHT
03. Electro World (エレクトロ・ワールド)
04. Dream Fighter
05. love the world
06. Zero Gravity
07. Macaroni (マカロニ)
08. SEVENTH HEAVEN
09. Kiss and Music
10. Speed of Sound (Short Ver.)
11. edge (⊿-mix)
12. Secret Secret (シークレットシークレット)
13. Computer City (コンピューターシティ)
14. I still love U
15. One Room Disco (ワンルーム・ディスコ)
16. Ceramic Girl (セラミックガール)
17. Jenny wa Gokigen Naname (ジェニーはご機嫌ななめ; Jenny is Displeased)
18. Chocolate Disco (チョコレイト・ディスコ)
19. Polyrhythm (ポリリズム)
20. Puppy love
-ENCORE-
21. Perfect Star Perfect Style (パーフェクトスター・パーフェクトスタイル)
22. Perfume
23. Negai (⊿TOUR Ver.) (願い; Wish)

[Disc 2]
01. NIGHT FLIGHT -Multiangle- (-マルチアングル-)
02. edge (⊿-mix) -Multiangle- (-マルチアングル-)
03. Nocchi Ver. Reversed Triangle TOUR Yokohama Arena Oct.30 '09 (のっちウラTOUR横浜アリーナ)
04. Kashiyuka Ver. Reversed Triangle TOUR Yokohama Arena Oct.30 '09 (かしゆかウラTOUR横浜アリーナ)
05. A~chan Ver. Reversed Triangle TOUR Yokohama Arena Oct.30 '09 (あ〜ちゃんウラTOUR横浜アリーナ)
06. Costumes of Reversed Triangle TOUR Yokohama Arena Oct.30 '09 (衣裳ウラTOUR横浜アリーナ)
07. Surprise!! (サプライズ!!)


3rd Live DVD / Blu-ray 「Budoukaaaaaaaaaan!!!!!」

2009.04.22 Released (DVD) | 2013.08.14 Released (Blu-ray)

[Tracklist]
01. Opening
02. Computer City (コンピューターシティ)
03. edge
04. Electro World (エレクトロ・ワールド)
05. MC
06. plastic smile
07. love the world
08. Macaroni (マカロニ)
09. MC
10. Baby cruising Love
11. Take me Take me
12. GAME
13. Secret Secret (シークレットシークレット)
14. Perfect Star Perfect Style (パーフェクトスター・パーフェクトスタイル)
15. MC
16. Ceramic Girl (セラミックガール)
17. Jenny wa Gokigen Naname (ジェニーはご機嫌ななめ; Jenny is Displeased)
18. MC
19. Chocolate Disco (チョコレイト・ディスコ)
20. Polyrhythm (ポリリズム)
21. MC
-ENCORE-
22. Dream Fighter
23. Perfume
24. wonder2


2nd Live DVD / Blu-ray 「First Tour "GAME"」

2008.10.15 Released (DVD) | 2013.08.14 Released (Blu-ray)

[Tracklist]
01. GAME
02. Electro World (エレクトロ・ワールド)
03. Computer City (コンピューターシティ)
04. Computer Driving (コンピュータードライビング)
05. Twinkle Snow Powdery Snow
06. Baby cruising Love
07. Foundation (ファンデーション)
08. Butterfly
09. Take me Take me
10. Secret Secret (シークレットシークレット)
11. Macaroni (マカロニ)
12. Polyrhythm (ポリリズム)
13. Chocolate Disco (チョコレイト・ディスコ)
14. Perfect Star Perfect Style (パーフェクトスター・パーフェクトスタイル)
15. Jenny wa Gokigen Naname (ジェニーはご機嫌ななめ; Jenny is Displeased)
16. Perfume
-ENCORE-
17. Ceramic Girl (セラミックガール)
18. wonder2


1st Live DVD / Blu-ray 「Fan Service [bitter]」

2007.03.14 Released (Limited) | 2008.02.13 Released (Regular) | 2013.08.14 Released (Blu-ray)

[Tracklist]
01. Electro World (エレクトロ・ワールド)
02. Oishii Recipe (おいしいレシピ; Delicious Recipe)
03. Computer City (コンピューターシティ)
04. MC
05. Linear Motor Girl (リニアモーターガール)
06. Monochrome Effect (モノクロームエフェクト)
07. Super Jet Shoes (スーパージェットシューズ)
08. MC
09. Perfume Medley (Perfumeメドレー)


--

01. OMAJINAI★Perori (OMAJINAI★ペロリ)


--

02. Vitamin Drop (ビタミンドロップ)


--

03. Imitation World (イミテーションワールド)


--

04. Counter Attraction (カウンターアトラクション)


--

05. Kareshi Boshuuchuu (彼氏募集中; Recruiting a Boyfriend)


--

06. Jenny wa Gokigen Naname (ジェニーはご機嫌ななめ; Jenny is Displeased)


--

07. OMAJINAI★Perori (OMAJINAI★ペロリ)
10. オフショット)
11. Perfect Star Perfect Style (パーフェクトスター・パーフェクトスタイル)
12. Computer Driving (コンピュータードライビング)
13. Sweet Donuts (スウィートドーナッツ)
14. Perfume
-ENCORE-
15. MC
16. Twinkle Snow Powdery Snow
17. wonder2
►

Other DVDs / Blu-rays
Spoiler
1st PV Collection 「Perfume Clips」

2014.02.12 Released

[Disc 1]
01. Linear Motor Girl (リニアモーターガール)
02. Computer City (コンピューターシティ)
03. Electro World (エレクトロ・ワールド)
04. Chocolate Disco (チョコレイト・ディスコ)
05. Twinkle Snow Powdery Snow
06. Polyrhythm (ポリリズム)
07. Baby cruising Love
08. Macaroni (マカロニ)
09. Secret Secret (シークレットシークレット)
10. love the world
11. Dream Fighter
12. One Room Disco (ワンルーム・ディスコ)
13. I still love U
14. Fushizen na Girl (不自然なガール; Artificial Girl)
15. Natural ni Koishite (ナチュラルに恋して; Fall in Love Naturally)
16. VOICE
17. Nee (ねぇ; Hey)
18. Laser Beam -FULL Ver.- (レーザービーム)
19. GLITTER
20. Spice (スパイス)
21. Kasuka na Kaori -TV Ver.- (微かなカオリ; Faint Scent)
22. FAKE IT
23. Chocolate Disco -Historical Live Act Version- (チョコレイト・ディスコ)

[Disc 2] (Limited Editions Only)
01. Perfume Clips 4-speed Audio Commentary (Perfume Clips 4倍速オーディオコメンタリー)
02. Macaroni -A-CHAN Version- (マカロニ)
03. Macaroni -KASHIYUKA Version- (マカロニ)
04. Macaroni -NOCCHI Version- (マカロニ)
05. I still love U -Netabarashi Version- (ネタばらし)
06. Kasuka na Kaori -Tategata Version- (微かなカオリ)
07. TV-SPOT Collection (25 Different)


2nd DVD 「Perfume in HAPPY de Kininaru Chandelier House」 (Perfume in HAPPYで気になるシャンデリアハウス)

2009.09.25 Released

DVD box release from the variety TV program "Perfume in Happy de Kininaru Chandelier House" featuring Perfume. Includes all episodes and bonus video footage.


1st DVD Perfume x DJ Momo-i - 「Akihabalove」 (アキハバラブ)

2005.08.29 Released

[CD]
01. Akihabalove (アキハバラブ)
02. Akihabalove (karaoke) (アキハバラブ)

[DVD]
01. Uchimizu Promotion video (打ち水大作戦プロモーションビデオ)
02. Akihabalove (アキハバラブ)


--

01. Front (フロント)


--

02. Back (バック)


--

03. Close-up (クローズアップ)

Official Japanese Site
http://www.perfume-web.jp/
Official Global Site
http://www.perfume-global.com/
Official Youtube Channel
http://www.youtube.com/perfume/
Official Perfume Report Blog
http://blog.amuse.co.jp/perfume/p/
Universal Music Japan Official Site
http://beta.universal-music.co.jp/perfume
Perfume City (Fansite)
http://www.perfume-city.com/
Tokuma Japan Communications (old label) Official Site
http://www.tkma.co.jp/tjc/j_pop/perfume/
Last Edited By: LeeLeeNeko Mar 11 16 8:03 PM. Edited 86 times