Posts: 14
2014 - Mr.Children brings fantasy to life!!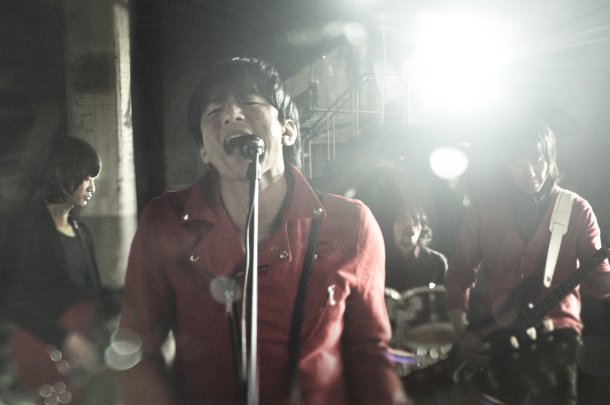 <
Mr.Children JPM Thread Archive - Pages 001 - 294
>
<
Mr.Children JPM Thread Archive - Pages 295 - 445
>
<
Mr.Children JPM Thread Archive - Pages 446 - 553
>
<
Mr.Children JPM Thread Archive - Pages 554 - 579
>
- Use the Internet Explorer as a browser -
2008 Releases
Spoiler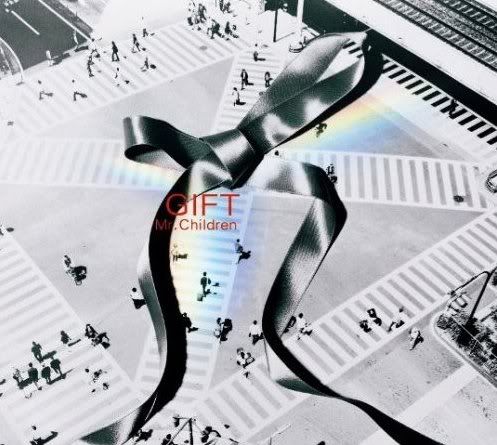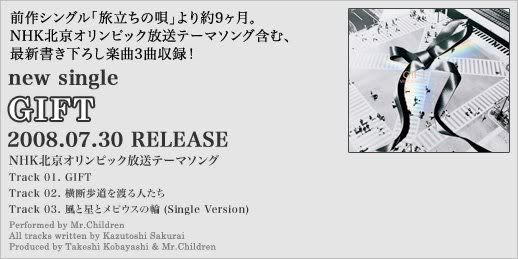 32nd Single GIFT:
01 - GIFT
-a song that can push oneself forward like Owarinaki Tabi
- mid-tempo ballad
02 - 横断歩道を渡る人たち [Oudanhodou wo wataru hitotachi] (The people who cross over the pedestrian overpath)
-intense folklike number which unites their band sound with a brass section.
03 - 風と星とメビウスの輪 [Kaze to Hoshi to Moebius no wa] (The wind, the stars and Moebius' loop)
-a ballad that only features a piano and vocals.
- single version might suggest that the song will be included on the album
- According to the single description at yesasia
all three songs of the GIFT single were written this year. Moreover, inside the band "Oudanhodou wo wataru hitotachi" is said to be like the 2nd A-Side of the single featuring "Mr.Children's New Sound for 2008".
GIFT. Sakurai's message:
I wonder...
Which might be the most beautiful color?
Which might be the most shining color?
This song starts with these words. Needless to say, at the Olympic Games, what is shining the most beautifully is the "gold medal".
However, I think that other than the radiance called "gold silver bronze", which only the winners are awarded with, there exists, more importantly, a radiance which has more value.
I believe that among the people who couldn't gain a victory, and among the people who give their best in their everyday lives where there's usually no victory or defeat, each one possesses a radiance that does not lose to any medal.
If this song can become a help for everyone to discover the radiance that lies within them there could be no greater joy for me.
translated by Mr_Children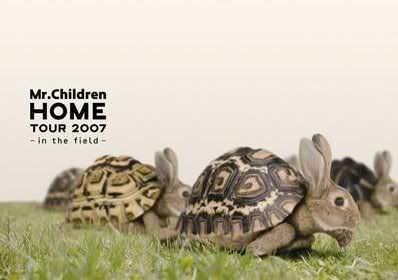 DVD HOME TOUR ~in the field~: Tracklist:
D1 (bold = songs not included on the 1st HOME DVD)
00.OP
01.Irodori
02.Namonaki Uta
03.Hoshi ni naretara
04.Seesaw Game
05.CROSS ROAD
06.Tomorrow never knows
07.my life
08.Hibiki
09.Motto
10.HERO
11.Imagine
12.CENTER OF UNIVERSE
D2
13.Dance Dance Dance
14.FAKE
15.Any
16.Kuchibue
17.Sign
18.Pocket Castanet
19.Worlds end
20.Owarinaki Tabi
21.Shirushi
encore
22.Wake me up!
23.innocent world
24.Tabidachi no Uta
99.ED
P1
160p photobook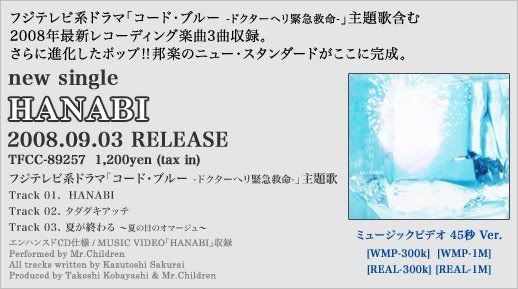 33rd Single HANABI:
01 - HANABI (fireworks)
-(mid-tempo) pop tune that can be said to progress the standard of (traditional) Japanese music
- Hanabi is more pop-oriented and GIFT more ballad-like.
- "evolved" / progressed pop tune
02 - タダダキアッテ [tada dakiatte] (just let us embrace each other)
-written in Katakana these lyrics were also part of the song Tagatame.
-There might be some kind of connection.
03 - 夏が終わる~夏の日のオマージュ~ [Natsu ga owaru ~Natsu no Hi no Homage~] (Summer ends ~Homage to a summer day~)
HANABI. Sakurai's message:
"There is definitely no one who doesn't face problems, that goes for the people who appear in the drama and for me as well, but each one in their own way is living wishing for a wonderful tomorrow. That is a natural kind of thing and inside of it there's a momentary beauty as with fireworks ["HANABI"]. So, conveying this feeling I gave the song that title.
I'm looking forward to seeing how the song is going to be linked with the drama and the people who will listen to it".
translated by Mr_Children
1st Digital Single "Hana no Nioi"
10.1 - Chaku Uta
11.1 - Chaku Uta Full
15th Original Album "SUPERMARKET FANTASY"
Tracklist:
01. 終末のコンフィデンスソング [Shuumatsu no Confidence Song]
02. HANABI
03. エソラ [Esora]
04. 声 [Koe]
05. 少年 [Shounen]
06. 旅立ちの唄 [Tabidachi no Uta]
07. 口がすべって [Kuchi ga Subette]
08. 水上バス [Suijou Bus]
09. 東京 [Tokyo]
10. ロックンロール [Rock n' Roll]
11. 羊、吠える [Hitsuji, Hoeru]
12. 風と星とメビウスの輪 [Kaze to Hoshi to Moebius no Wa]
13. GIFT
14. 花の匂い [Hana no Nioi]
General Information
Spoiler
Mr. Children, commonly called "Misuchiru" (ミスチル, "Misuchiru"), is a Japanese rock band formed in 1988 by Kazutoshi Sakurai, Kenichi Tahara, Keisuke Nakagawa, and Hideya Suzuki. As a group, they are one of the most successful Japanese acts, having sold over 50 million records (the second highest selling act in Japan, after B'z). They also currently hold the record for the highest first week sales of a single in Japan, with 1.2 million copies of their 10th single "Namonaki Uta", have 29 consecutive #1 singles, and replaced Glay as the all-male band with the most #1 albums on the Oricon charts. As of 2009, Mr. Children has published fifteen original studio albums and 33 singles, along with two compilations, a live album, and twelve home video releases. The bands music is mainly composed and written by lead singer Sakurai (with the exception of the Suzuki-penned songs "Asia" and "#2601" from the albums Atomic Heart and Discovery, respectively).

The sound of Mr.Children is pretty diverse.
In some songs they make use of soft, acoustic instruments while other tunes tend to have a rock feeling. Their songs are also often backed up by
an orchestra or synthesizers. As Sakurai's vocals are very unique the band has a high recognition value. Sakurai's lyrics enclose a wide range of themes and have been object of much praise until today. In fact, he's considered to be one of the best lyricists in the Japanese music scene.


Basically, their popularity stems from their music which has a real and honest feeling, thus, reaching a wide margin of the population.

It is also known that many famous Japanese people and musicians are fans of them including :

- Domoto Tsuyoshi (of KinKi Kids)
- Sukima Switch
- Keita Tachibana (of W-inds)
- Van Tomiko (of Do as Infinity)
- Kobukuro
- BoA
- ayaka
- Suga Shikao
- Chara
- Kaori Mochida (ELT)
- Kawaguchi Kyougo
- Otsuka Ai
- Kusanagi Tsuyoshi (SMAP)
- Matsushita Nao (pianist)
- Tsumabuki Satoshi (actor)
- Hirosue Ryoko (actress)
- Katase Nana (actress)
- Katou Rosa (actress)
- Koizumi Koutarou (actress)
- Fujiki Naohito (actor)
- Kubozuka Yosuke (actor)

and many more...
Band members
桜井和寿
Spoiler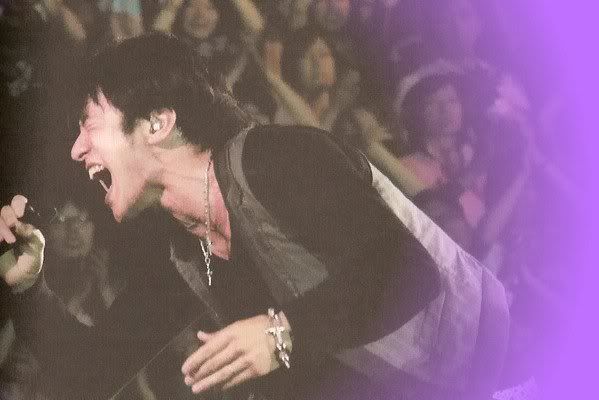 01 -
Sakurai Kazutoshi
: [ Vocalist, Lyricist, Componist, Keyboard and Second Guitarist, born: 8th March 1970 ]
profile :
Blood type: O
Birthday: 1970.3.8
Birthplace: Tokyo
Marital Status: Married to Mika Yoshino
Status in band: Vocal, guitar, lyricist, and composer
Ten favorite things:
Soccer
surfing
singing
drinking
guitar
TV
radio show (Yaruki-Manman)
sea
sky
people
Trivia:
- Hospitalized after blockage in his cerebellum was detected in 2002. All activities were cancelled but after recieving word of a good recovery they returned for a 1 night live in December that same year.
- Former employee of recording label
- Had a daughter with his first wife [born October 1994]
- Has a son with his second wife
- Nickname is "Ero Oyaji" [erotic father]
- Parents have a construction company
- Father is a carpenter and Sakurai had considered following in his foot steps until Atomic Heart was released.
- Favorite book is "Children in the world" and "Happy News"
- His eldest sister was the one who noticed he had a talent for the guitar
- Favorite food is cake
- His favorite animal is a Squirrel monkey
- There is a villa he goes to in the Yamagata Prefecture when he needs to get away
- Is said to look like Junichiro Koizumi, which was pointed out when Koizumi was speaking with a high school girl
- Kuwata Keisuke from Southern All Stars has given him the nickname 'Mr. Total', while fans address Sakurai as Sakurai-san.
- Played baseball and studied Karate as a child. Parents were very big on physical education.
- Favorite Manga is Takehiko Inoue's 'vagabond' and favorite comic magazine to read is SHOUNEN JUMP
- Brings a box lunch with him when he goes to perform on TV shows
- Likes watching comedy on TV and live comedy shows. His favorite comics to see live are Neptune and Honjamaca.
- Says he's confident enough to wear the color pink
- At the Karaoke Bar he likes to sing songs by "Suga Shikao", "BUMP OF CHICKEN", "aiko", "Nakajima Miyuki", "Hamada Shogo" and "Kai Band" (although he doesn't go there very often)
- The song HERO saved Suga Shikao from a serious slump
- Was compared to the electric appliance "heater" by actress Shida Mirai
- says he's weak against pressure. When he's relaxed he's best at writing new material
- says he's weak at Life MCs and Television talk. For Live DVDs he wants the MC to be cut if possible.
- Often composes songs while riding his bycycle (singing, both, in his mind and in a normal way) or in the bathroom. Wrote the lyrics to "Shirushi" in his car
- In an interview with Utada Hikaru they noticed that they tend to have a similar choice of words (concerning song lyrics)
- said he really liked Utada Hikaru's "Colors" (especially the Drum Line)
- was a fan of Shogo Hamada when he was younger
- other musicians he was influenced by : Kuwata Keisuke, Kai Band, ECHOES
- at the time of their debut he had three goals: to sell more than a million cds, making friends with actress Makise Nori and to be featured on Waratte iitomo. He was able to sell more than a million and he was on Tamori's Waratte iitomo. (I don't know if he became friends with that actress, though)
- feels the most joy as an artist when he's in the recording process with the band.
About ap bank:
- Consists of three people: Sakurai, Takeshi Kobayashi, and Ryuichi Sakamoto.
- Started in 2003
- They loan money to various environmental preservation projects like like natural energy and energy conservation, etc... at a low interest rate. The ap bank is a non-profit financial institution.
田原健一
Spoiler
02 -
Tahara Kenichi
: [ First Guitarist, born: 24th September 1969 ]
profile :
Date of birth: 1969.09.24
Place of birth: Fukuoka
Blood type: O
Height: 171 cm
Weight: 58 kg
Position: Guitar
Favorite things:
Baseball
my blue guitar
travel stories
tremelo
deep fried oysters
driving
fine days
joy
family
Trivia:
- He is very quiet
- Says about himself: "I'm somewhat poor at talking in public", and thus he really only talks for magazine interviews and radio programs
- Because of his quietness the media is always asking "Is Mr. Tahara happy?"
- Is a baseball junkie and played baseball in school until Sakurai asked him to join his band. He wasn't so sure so Sakurai said to him "Have the bat from tomorrow in the guitar and substitute it"
- Can play the glockenspiel
- Supervises the baseball team "JIMIKEN"
- If Mr. Children isn't doing anything at the time he likes to be together with all of his family at home
- Played the pianica in Arifureta Love Story ~Danjomondai ha Itsumo Mendou da~ and Tobe
- Currently uses Gibson Chet Atkins Country Gentleman and Gibson's Les Paul Standard
- Wrote a bunch of essays for "monthly KADOKAWA"
- Is said to look like Hamada Isao of Downtown
中川敬輔
Spoiler
03 -
Nakagawa Keisuke
: [ Bassist, born: 26th August 1969 ]
profile :
Date of birth: 1969.08.26
Place of birth: Nagasaki
Blood type: B
Height: 174 cm
Weight: 60 kg
Position: Bass
Favorite things:
Women
drinking
Smoking
Sleeping
horse racing
Games
Recording
Tour
Susukino
deep fried chicken
Trivia:
- Nickname is "NAKAKE"
- Is a calm, quiet person, but will often burst into laughter surprising some
- Changes his hairstyle the most out of all the members
- Fan of the Hanshin Tigers and horse races
- Hates tomatoes and fermented soybeans but has recently (2006) learned to like them
- Incidentally, if a sea urchin is from Hokkaido, he will eat it
- Has a miniature dachshund for a pet
- Went to the same junior high school and high school as Kenichi Tahara, and went to the same junior high as Suzuki
- Met Sakurai in high school [as did Tahara]
- Started learning how to play bass in junior high
- Likes to go drinking after each tour
- Likes Choi Yong Soo from South Korea's soccer team [he thinks he's a good player]
- His type of girl is someone that can understand the feelings of a man who tries to charm his favorite girl
Other trvia:
Tahara and Nakagawa got together to start the band, Sakurai then joined, and then they needed a drummer so Sakurai and Tahara called Suzuki
鈴木英哉
Spoiler
04 -
Suzuki Hideya
: [ Background Vocalist, Drums, born : 14th November 1969 ]
profile :
Date of birth: 1969.11.14
Place of birth: Tokyo
Blood type: A
Height: 175 cm
Weight: 64 kg
Position: Drums & Backing Vocals
Favorite things:
Music
drinking
women
music
drinking
women
music
drinking
women
toys
Trivia:
- Nickname is Jen
- Is the leader of the band
- Is the only single person in Mr. Children
- Is the mood-setter of the band which is why he talks so much in TV interviews
- Parents liked jazz. Jen would go to see a jazz drummer named Buddy when he was young
- Came to be called Jen because he had a scooter called "Gemma of SUZUKI" when he was in junior high school student. A senior at his school who was in the baseball club, would make fun of him and his scooter and started calling him Gen.
- When he was invited to join the band by Sakurai and Tahara, he told them to "Wait until the result comes back, since I received an audition now." The audition was for Yui Asaka's band.
- Likes to collect guitars. He started with 2 guitars and bought them purely off of look.
- Likes to buy unusual guitars
- The green Gibson fire bird was his favorite during ku: era
- Was pretty poor when he was young and borrowed money a lot. Of which he owed Sakurai 20,000 of 30,000 he has borrowed from people.
- Used canned coffee to moisten his throat, and got Sakurai to bring in a canteen during practice
- Everytime Jen goes on a radio program he seems to always be hungry.
- This hunger is linked to the fact that he moves around alot (in addition to talking) during radio programs
- His lower lip is supposedly thicker then he top lip
- When he was little he was riding a tricycle on a slope, and had a traffic accident and injured his lip
- Reportedly played some guitar in "Shishunki no Natsu " on the KIND OF LOVE album
- Has a lemon tree in his room
- Ate instant noodles together with Sakurai while recording abroad.
- Is said to be odorless. Like even though he sweats like crazy, he does not smell.
The unofficial '5th' member :
Spoiler
Kobayashi Takeshi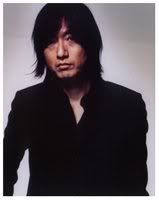 Takeshi Kobayashi
Born: July 6th 1959
Role: Producer, Keyboardist
He co-produced all of their albums and occasionally participates in their live activities. Out of the artists he worked with he has a particularly strong bond to Mr.Children.
Sales
Spoiler
Singles
Date -> Oricon ranking (#1 =
red
) -> charting weeks ->
1st week sales -> overall sales (+ 1,000,000 =
blue
, + 2,000,000 =
violet
, + 3,000,000 =
orange
) -> Single name
92.08.21____069____006____0,003,000____0,021,710____Kimi ga ita natsu
92.12.01____056____016____0,003,000____0,060,790____Dakishimetai
93.07.01____019____009____0,025,000____0,088,330____Replay
93.11.10____006____050____0,066,000____
1,255,940
____CROSS ROAD
94.06.01____
001
____041____0,206,000____
1,935,830
____innocent world
94.11.10____
001
____027____0,670,000____
2,766,290
____Tomorrow never knows
94.12.12____
001
____019____0,370,000____
1,240,040
____everybody goes
95.05.10____
001
____019____0,521,000____
1,571,890
____[es] ~Theme of es~
95.08.10____
001
____018____0,562,000____
1,811,790
____See-Saw Game ~yuukan na koi no uta~
96.02.05____
001
____017____
1,208,000
____
2,308,790
____Namonaki uta
96.04.10____
001
____015____0,639,000____
1,538,600
____Hana -Memènto-Mori-
96.08.08____
001
____011____0,302,000____0,733,070____Machine gun wo buppanase -Mr.Children Bootleg-
97.02.05____
001
____013____0,602,000____
1,217,090
____Everything ~It's you~
98.02.11____
001
____010____0,361,000____0,663,730____Nishi e Higashi e
98.10.21____
001
____015____0,516,000____
1,070,350
____Owarinaki tabi
99.01.13____
001
____006____0,328,000____0,455,770____Hikari no sasu hou e
99.05.12____
001
____007____0,195,000____0,301,000____I'LL BE
00.01.13____
001
____014____0,328,000____0,724,070____Kuchibue  
00.08.09____
001
____009____0,357,000____0,607,300____NOT FOUND
01.08.22____
001
____015____0,251,000____0,477,810____Yasashii uta
01.11.07____
001
____013____0,353,000____0,699,270____youthful days
02.01.01____
001
____012____0,306,000____0,513,280____Kimi ga suki
02.07.10____
001
____022____0,258,000____0,509,262____Any
02.12.11____
001
____032____0,315,000____0,552,848____HERO
03.11.19____
001
____025____0,287,000____0,651,696____Tenohira / Kurumi
04.05.26____
001
____046____0,370,000____0,774,576____Sign
05.06.29____
001
____020____0,569,000____0,925,632____Yojigen Four Dimensions
06.07.05____
001
____034____0,254,000____0.419,445____Houkiboshi
06.11.15____
001
____028____0,350,000____0,740,080____Shirushi
07.01.24____
001
____007____0,280,877____0,320,628____FAKE
07.10.31____
001
____016____0,238,380____0,392,376____Tabidachi no Uta
08.07.30____
001
____026____0,194,144____0,340,132____GIFT
08.09.03____
001
____025____0,260,196____0,479,619____HANABI
28,172,001
Albums
92.05.10____025____083____0,002,000____0,451,440____EVERYTHING
92.12.01____013____159____0,008,000____
1,179,780
____KIND OF LOVE
93.09.01____003____105____0,059,000____0,802,140____versus
94.09.01____
001
____096____0,450,000____
3,429,650
____Atomic Heart
96.06.24____
001
____046____
1,536,000
____
2,744,950
____Shinkai
97.03.05____
001
____038____
1,735,000
____
3,283,270
____ BOLERO
99.02.03____
001
____020____
1,110,000
____1,814,180____ DISCOVERY
99.09.08____
001
____007____0,411,000____0,559,310____1/42
00.09.27____002____014____0,632,000____0,896,890____Q
01.07.11____
001
____275____
1,202,000
____
2,344,054
____MR.CHILDREN 1992-1995
01.07.11____002____203____
1,004,000
____
1,780,023
____MR.CHILDREN 1996-2000
02.05.10____001____072____0,640,000____
1,232,655
____IT' S A WONDERFUL WORLD
04.04.07____
001
____077____0,803,000____
1,410,644
____Shifuku no Oto
05.09.21____
001
____048____0,687,000____
1,141,471
____I Love YOU
07.03.14____
001
____049____0,693,038____
1,207,417
____HOME
07.05.10____
001
____024____0,281,024____0,478,562____B-SIDE
08.12.10____
001
____053____0,707,763____
1,251,148
____SUPERMARKET FANTASY
26,007,584overall :

54,179,585
Trivia
Spoiler
-
fastest selling single
(first week sales) of all time in Japan : namonaki uta (1,208,000 units)
- million seller singles - 2nd overall :
1 - B'z (15 overall / 1 Double Million Seller)
2 -
Mr.Children
(10 / 2)
3 - Glay (6)
- million seller albums - 2nd overall :
1 - B'z (19)
2 -
Mr.Children
(11)
3 - Dreams Come True (10)
4 - Yumi Matsutoya (9)
4 - Zard (9)
- Consecutive No.1 Hits :
1 - B'z (41)
2 -
Mr.Children
(29)
3 - Kinki Kids (27)
4 - Seiko Matsuda (24)
5 - Hamasaki Ayumi (18)
- sales overall : 2nd (~52.000.000) (1st - B'z (~76.000.000))
-
No.1
on Oricon Year-End Charts : 1994 (Single: "innocent world"), 1996 (Single: "Na mo naki uta") and 2007 (Album: "HOME")
- Production label is Oorong
- Producer is Kobayashi who produced two opposite tours at once. The INNOCENT WORLD Tour, and Atomic Heart Tour. One tour focused on the physical performance. The other tour was focused on the latest technology.
- The song "Tomorrow never knows" was composed in a hotel during their tour
C/W for the single was supposed to be "everybody goes -Chitsujo no Nai Gendai ni Dropkick-", but was decided to be released as a separate single the following month.
- Mr.Children is famous for not appearing in NHK's Kouhaku Uta Gassen.
- After the release of [es] in theaters they held an outdoor concert called [ku:]
- Has stopped playing the song "Surrender" in concerts due to some people committing suicide after listening to it.
- Won Japan Record Grand Prix in 1994 for "innocent world" and won it again 10 years later for "Sign".
- Mr.Children has a long-time association with the Toys Factory record label.
- Their song "over" is said to be the most popular breakup song.
- Bank band 'Soushi Souai' has done two cover songs of HERO and Yasashii uta.
- Mr. Children's official fan club is called 'Father & Mother'. You can only be a member by writing to them. They will mail you back an application where you will pay 3,500 yen for a membership. You must re-apply every year for membership.
- Sakurai has teamed up with Gaku-MC in 2006 to make the single 'Te wo dasuna' for the World Cup whilst teaming up with Bank Band (feat. Salyu) to make the single 'To U'.
For more trivia, please refer to:
Innocent-world.org
Tie-up's
Spoiler
01 – kimi no koto igai wa nani mo kangaerarenai - Yazakisougyou CM song

02 - dakishimetai - Drama "Pure" Insert Song

03 - niji no kanata e - Anime "Shonan Bakusozoku" - omae to ore no Good Luck Theme song

04 - hoshi ni naretara - Drama "wakamono no subete" Insert Song

05 - Replay - Gurikopokkii CM song

06 - Cross Road - Drama "Dousoukai" Theme Song

07 - innocent world - Aquaerius Ioshisu CM song

08 - tomorrow never knows - Drama "wakamono no subete" Theme Song

09 - [es]~Theme of es~ - Movie "ES" Mr.Children in Film Theme Song

10 - Na mo naki Uta - Drama "Pure" Theme Song", Airial CM Song

11 - mata aeru kana - Nissan Buruubaado CM song

12 - Everything(It's you) - Drama "Koi no Bakansu" Theme Song

13 - nishi e higashi e - Drama "kira kira hikaru" Theme Song

14 - owarinaki tabi - Drama "naguru onna" Theme song

15 - I'll be - Shiseido Sea Breaze CM Song

16 - Not Found - Drama "Bus Stop" Theme Song

17 - yasashii uta - Asahi Inryo Wonda CM song

18 - Everything is made from a dream - Biglobe "Mr.Children Alternative" CM Song

19 - youthful days - Drama "Antique" Theme Song

20 - kimi ga suki - Drama "Antique" Insert Song

21 - Drawing - Drama "Koufuku no Ojii" Theme Song

22 - sosei - Asahi Inryo Wonda CM song, Seiko I, BRIGHTZ CM song

23 - Any, Hero,Kurumi, Paddle - NTT DoCoMo CM Song

24 - Tagatame - Nissin Cup Noodle NO Border CM Song

25 - Sign - Drama "Orange Days" Theme Song

26 - Mirai - Pocari Sweat CM Song

27 - and I love you - Nissin Cup Noodle NO Border CM Song

28 - Yooidon - Fuji TV kodomo bangumi "Ponkikkiizu", "GachaGachaPon" Theme Song

29 - running high - movie "Fly Daddy Fly" Theme Song

30 - Bokura no Oto - Nissin Cup Noodle NO Border CM Song

31 - Houkiboshi - Toyota tobira wo akeyou CM Song and theme song of NTV's 2006 FIFA World Cup broadcasting

32 - Kurumi ~for the Film Koufuku na Shokutaku~ - movie "Koufuku na Shokutaku" Theme Song

33 - Shirushi - Drama "14 Sai no Haha" Theme Song

34 - Fake - Movie "Dororo" Theme Song

35 - Irodori - Olympus Digi Cam E-410 CM song

36 - Tabidachi no Uta - Movie "Koizora" Theme Song, NTT Higashi Nihon CM song

37 - Itsudemo Hohoemi wo - Sompo Japan Insurance Inc. CM song

38 - Shounen - Drama "Battery" Theme Song

39 - GIFT - NHK Beijing 2008 Olympic Broadcast Theme Song

40 - HANABI - Drama "Code Blue" Theme Song

41 - Hana no Nioi - Movie "Watashi wa Kai ni naritai" Theme Song

PVs
Spoiler
[es] ~Theme Of Es~
Alive
Ame nochi hare
and I love you
Any
Bolero
Brandnew my Lover
Cross Road
Dakishimetai
ESORA
Everything (It's You)
FAKE
GIFT
Hana -Memento Mori-
Hana no Nioi
HANABI
HERO
HERO (Special Version)
Hibiki (B-Side)
Hikari no Sasu Houhe
Houki Boshi
Houki Boshi -ordinary beauty-
I'll Be
Innocent World
Irodori
Kimi ga ita Natsu
Kimi ga Suki
Kuchibue
Kurumi
Kutsuhimo
Love Connection
Machine Gun wo Buppanase
Mirai
Mirai (Live - DVD)
Nishi e Higashi e
Not Found
Owarinaki Tabi
Replay
See Saw Game
Shirushi
Sign
Sosei
Tabidachi no Uta (Live Vers.)
Tenohira
Time Machine ni Notte
Tomorrow Never Knows
World's End
Yasashii Uta
Youthful Days
Youthful Days (Antique Version)
Links
//
Navigation site
http://www.mrchildren-navi.com/
//
Official
Mr.Children Official Site
Mr Children at TOY'S FACTORY
English version at TOY'S FACTORY
// Fansites //
Japanese
Mr.Children World!!
Moshi Bokura no Kotoba ga Ongaku de Atta Nara
everyday mr.children
Mr.Children Soul
Mr.Childreds
Mr.Children My HERO
Step up to brighter
// Fansites //
English
Innocent-world.org
- ( features regular news updates)
Everything
What's About Mr.Children
Mr.Children Lyrics / Translations
//
BBS, Images, Multimedia and Miscellanous Links
Wikipedia / English
Wikipedia / German
Wikipedia / Japanese
Wikipedia / Spanish
Wikipedia / Portuguese
Wikipedia / Indonesian
Wikipedia / Korean
Wikipedia / Chinese
Yahoo! Mr.Children News Site
Mr.Children Icons
Mr.Children Biography in Japanese (Until 2005)
Toolbox
Mr.Children Avi BBS
It would be great if more people joined the
guest map
!!

/ Mr. Children Guestmap of www.Innocent-world.org
***********************************************************
>AVATAR GALLERY<
Spoiler
by zeopower6:


















by [ i ]:






















by glacial








by Mr_Children




Suzuki
by munchlax

by Kanako
>WALLPAPER<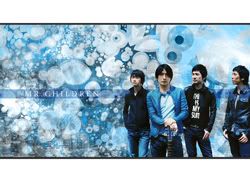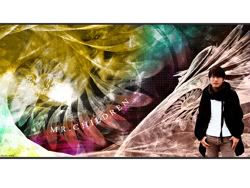 [ i ]'s Mr.Children Images :
http://smg.photobucket.com/albums/v25/ikuniweb/
[ i ]'s Mr.Children Magazine scans:
http://www.innocent-world.org/media.html
cardcaptorstacey's avatars:
http://cardcaptorstacey.c...dren/downloads.php?icons
Last Edited By: Reinhard von Lohengramm Mar 1 15 10:17 AM. Edited 11 times