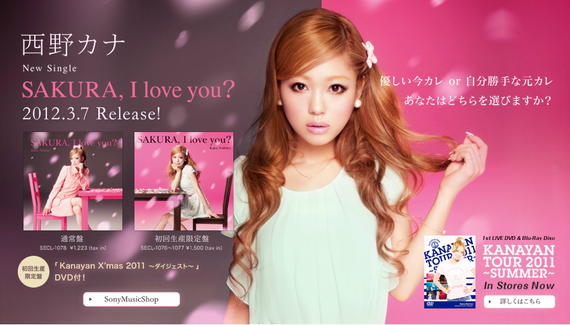 Name: 西野カナ (Nishino Kana)
Birth Name: 西野加奈子 (Nishino Kanako)
Birthdate: March 18, 1989
Birthplace: Matsusaka, Mie, Japan
Blood Type: A
Height: 158cm
Favorite Artists: Christina Aguilera, Jennifer Lopez, Ciara
西野カナ (Nishino Kana) is Japanese pop singer under Sony Music Japan. In the year 2005, she was the winner of 40,000 participants "Miss Phoenix Audition" audition held by Sony. Nishino made her major debut in February 2008 with the single "I".
From when she was little, Nishino learned English from English conversation schools, and went to America twice. She then was interested in various genres of music, including hip-hop, R&B and reggae. On the other hand, she also enjoyed traditional Japanese literature, and started singing Japanese folk songs. Her dream of becoming a singer started from junior high school. When she was 16 her mother secretly sent a demo tape of hers to the "Miss Phoenix Audition", and she was rated the top singer entrant out of approximately 40,000 applicants. A year later in 2006, she was signed to SME Records and started vocals training.
In 2007 while preparing to be a singer, she was also studying English literature at university. At the time she met Australian duo Nervo, who offered Nishino a song called I Don't Wanna Know for use in her music project. Nishino rewrote the song's lyrics into Japanese herself, and re-titled it I.
In December 2007 her official site opened, and from that time onwards *I* ~Merry Christmas ver.~ was available as a digital download from several Japanese sites, including mora.jp. The original version of the song I Don't Wanna Know was available as a digital download on the American iTunes from New Years' Day onwards. The physical version was released two months later, on the 20th of February.
After two unsuccessful singles, Nishino was chosen to sing the second ending theme for the anime SOUL EATER. "Style." was released as her third single and was her highest selling single in 2008 due to the popularity of the anime series. However, her career took off in 2009 with the change in music style, her fifth single "Tookutemo" feat. WISE, reaching #40 on the Oricon charts even without a tie-in. Three months later, Nishino released "Kimi ni Aitaku Naru Kara", this single became her first enter to the top 30 weekly of Oricon. Following the success of "Kimi ni Aitaku Naru Kara", her debut album LOVE one. was released three weeks later featuring all her six singles. LOVE one. debuted at #4 on the weekly charts and has a long chart life, rising Nishino's name to stardom.
In October 2009, Nishino released her seventh single "Motto...", starting a new chapter of her career.
NEW 16TH SINGLE

SAKURA, I love you?

CD (Regular) + CD/DVD (Limited)

Releases: 2012.03.07

Catalog Numbers: SECL-1076 (CD/DVD Limited), SECL-1078 (CD Regular)

Price: ¥1,500 (CD/DVD Limited), ¥1,223 (CD Regular)

Tracklist CD:

1. SAKURA, I love you?

Radio Rip

2. My Baby

3. sweet sweet

Tracklist DVD:

1. Kanayan X'mas 2011 Digest
FIRST LIVE BD/DVD

Kanayan Tour 2011 ~Summer~

BD/DVD (Limited DVD + Regular BD/DVD)

Released: 2011.12.07

Catalog Number: SEBL-132 (DVD Limited), SEBL-134 (DVD Regular), SEXL-4 (BD Regular)

Price: ¥5500 (DVD Limited), ¥5000 (DVD Regular), ¥6000 (BD Regular)

Setlist:

01. Distance

02. Clap Clap!!

03. Best Friend

04. 会いたくて 会いたくて (Aitakute Aitakute)

05. Flower

06. GIRLS GIRLS

07. ONLY ONE

08. candy

09. Every Boy Every Girl

10. 君に会いたくなるから (Kimi ni Aitaku Naru Kara)

11. 君って (Kimi tte)

12. if

13. Alright

14. Esperanza

15. Come On Yes Yes Oh Yeah!!

16. たとえ どんなに... (Tatoe Donna ni...)

17. Sherie

18. Together
Albums
[2009.06.24] LOVE one.
[2010.06.23] to LOVE
[2011.06.22] Thank you, Love
Singles
[2008.02.20] I
[2008.04.23] glowly days
[2008.08.13] Style.
[2009.01.28] MAKE UP
[2009.03.18] 遠くても (Tookutemo) feat. WISE
[2009.06.03] 君に会いたくなるから (Kimi ni Aitaku Naru Kara)
[2009.10.21] もっと・・・ (Motto...)
[2009.12.02] Dear... / MAYBE
[2010.02.24] Best Friend
[2010.05.19] 会いたくて 会いたくて (Aitakute Aitakute)
[2010.08.04] if
[2010.11.03] 君って (Kimi tte)
[2011.02.09] Distance
[2011.05.18] Esperanza
[2011.11.09] たとえ どんなに… (Tatoe Donna ni…)
[2012.03.07] SAKURA, I love you?
Digital Downloads
[2007.12.xx] I ~Merry Christmas ver.~
[2007.12.xx] I don't wanna know
Analog
[2008.02.20] I ~SiZK "Water Drop" MiX~
Compilation / Other
[2009.03.04] KARUTETTO - L.I.F.E.2 (#6 I♥Koi feat. Nishino Kana)
[2009.03.18] TARO SOUL - SOUL SPIRAL (#11 この曲止まるまでは... (Kono Kyoku Tomarumade wa...) feat. 西野カナ (Nishino Kana))
[2009.04.22] THE BEST OF SOUL EATER (#3 Style.)
[2009.05.27] WISE - LOVE QUEST (#2 会えなくても (Aenakutemo) feat. 西野カナ (Nishino Kana))
[2009.09.16] m-flo TRIBUTE ~maison de m-flo~ (#4 Yours only, feat. WISE)
[2010.01.27] NERDHEAD - BRAVE HEART feat. 西野カナ (Nishino Kana)
[2010.12.08] INFINITY16 - INFINITY16 BEST (#1 RED album 真冬のオリオン (Mafuyu no Orion) welcomez MINMI&西野カナ (Nishino Kana)) (真冬のオリオン; Midwinter Orion)
[2011.03.16] WISE feat. 西野カナ (Nishino Kana) - By your side